Stylish new 2018 Acura RLX breaks cover
August 13 2019, Trevor Hofmann, Canadian Auto Press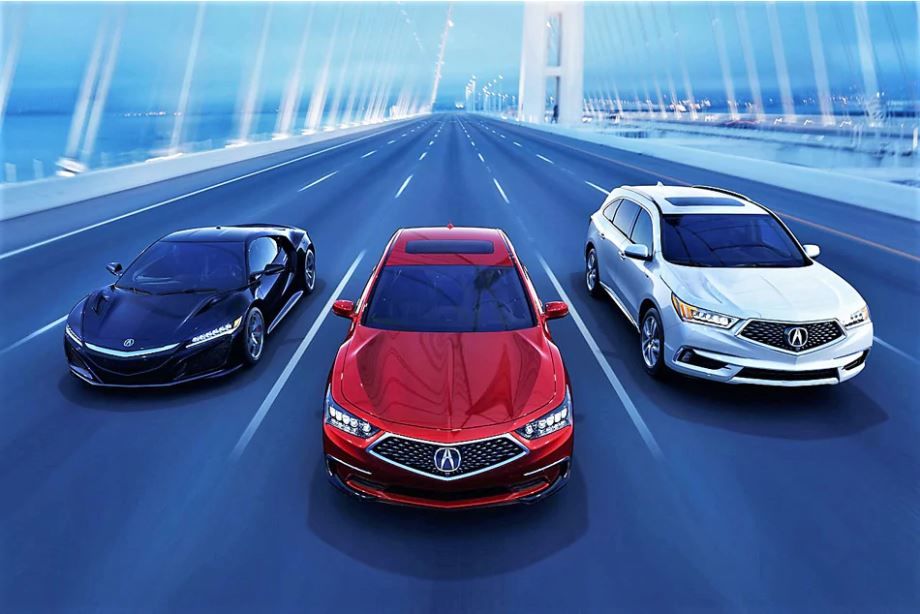 New diamond pentagon grille makes dramatic difference to visual presence
Anyone who's spent time behind the wheel of Acura's RLX Sport Hybrid knows that it's an especially impressive sport-luxury sedan, but this fall it's going to get even better thanks to a mid-cycle makeover that will see the Japanese luxury brand's new Precision Crafted Performance design language modernize its styling.
Acura has been applying the stylish new look to other models in its lineup over the past year, the refreshed 2018 TLX just arriving to Canadian dealers now and the 2017 MDX having received its mid-cycle update last year.

Dramatic new diamond pentagon grille thoroughly modernizes new RLX
The most noticeable change to the new RLX is the adaption of Acura's new signature diamond pentagon grille and more pronounced Acura badge at centre, which transforms its front end while giving a new sense of purpose to the entire car.
"This redesign of the 2018 Acura RLX is transformational, creating road presence and styling that better reflect underlying performance capabilities of the vehicle," said Gary Gill, Acura Senior Manager, Acura Sales and Marketing.
The result is unquestionably unique and undeniably attractive. Acura first showed the diamond pentagon grille on the stunning 2016 Acura Precision Concept that debuted at the North American International Auto Show in Detroit on January 2016, a car we'd love to see brought to production as soon as possible.
Additional exterior enhancements with the new RLX include reworked five-element LED headlamps featuring new LED character strips around their outside edges, a totally revised more aggressively styled lower front fascia, a more sharply sculpted hood, more detail along the extended rocker panels including unique chrome mouldings that visually extend from those on the front and rear fascias, redesigned LED taillights, a new rear bumper with an integrated gloss black diffuser, new dual exhaust finishers, and new alloy wheels.

Sleek new styling to match the Sport Hybrid's superb performance
The 2018 RLX is Acura's third production model to receive the new diamond pentagon grille design, the fabulous NSX Sport Hybrid ironically using a modernized version of the outgoing grille's general shape, although it might be challenging to graft the bold new look onto the sleek mid-engine supercar's narrow front fascia.
The NSX marked the second hybrid in Acura's lineup when it arrived late last year as a 2017 model, the first being the RLX since model year 2015, while the Japanese luxury brand added the new MDX Sport Hybrid earlier this year.
The RLX Sport Hybrid powertrain bridges the gap between the blisteringly quick NSX Sport Hybrid and the more family-oriented MDX Sport Hybrid. The former utilizes a similar tri-motor electrified setup as the more conventional models, albeit completely reversed due to its mid-engine sports car layout. The NSX puts out a sensational 573 net horsepower and 476 lb-ft of torque, whereas the MDX Sport Hybrid produces a more modest 321 horsepower and 289 lb-ft of torque due to a smaller 3.0-litre V6. This makes the 3.5-litre V6-powered RLX Sport Hybrid's 377 horsepower and 341 lb-ft of torque the mediator, an apropos position to be in for an executive sedan.

RLX Sport Hybrid shares powertrain technology with NSX supercar
Like the other Sport Hybrid models, the RLX Sport Hybrid uses Acura's three-motor powertrain with electric torque vectoring, featuring an internal combustion engine (ICE) powering the front wheels in concert with an electric assist motor. The RDX defaults to this most fuel-efficient mode in the dry or under light loads, but if increased throttle input, hard cornering, or driving on slippery surfaces causes the need for rear-wheel propulsion an electrified version of Acura's torque-vectoring Super Handling All-Wheel Drive (SH-AWD) provides traction from all four tires via two rear wheel-mounted electric motors.
Acura dubs this system Sport Hybrid Super-Handling All-Wheel Drive (Sport Hybrid SH-AWD), and while it's a particularly advanced hybrid powertrain its sophistication only scrapes the surface of all the technology aboard the RLX.
Like the 2017 RLX Sport Hybrid we reviewed earlier this year, the new 2018 RLX Sport Hybrid will carry forward with the AcuraWatch suite of advanced driver-assistance systems (ADAS) including forward collision warning with autonomous collision mitigation braking, blindspot monitoring and lane departure warning with lane keeping assist and road departure mitigation, and rear cross-traffic alert, which was enough to earn the 2017 RLX an IIHS Top Safety Pick rating, while new for 2018 is Traffic Jam Assist, a first for Acura.

New Traffic Jam Assist expands on standard AcuraWatch technology
Traffic Jam Assist works together with another AcuraWatch feature, Adaptive Cruise Control with Low Speed Follow, helping reduce driver fatigue and stress amid congested traffic by keeping the RLX within its lane at a set interval behind the car ahead. Consider it low-speed autopilot, which is certainly a safer way to implement fully autonomous driving than some premium carmakers.
AcuraWatch combines millimeter wave radar together with monocular camera sensing technology in order to detect lane markings and surrounding vehicles, which not only keeps the car within its lane, but can also intervene in order to prevent a collision or mitigate the severity of impact.

Standard features continue to be unparalleled in its class
Additional standard 2018 RLX Sport Hybrid features include LED fog lamps, remote start, colour head-up display, navigation, voice recognition, a heated steering wheel, heatable front and rear seats, and more, while the sensational Krell audio system will continue forward in the new model.
Acura will offer three new exterior colour choices to 2018 RLX customers, including Brilliant Red Metallic (shown) and Majestic Black Pearl that fall under the premium paint category.
Premium in mind, Acura promises some interior enhancements including improved materials on key touch points, such as redesigned seats featuring high-contrast stitching and piping, plus a new Espresso interior option.
We can expect a more detailed list of features to be released ahead of the car's November 2017 on-sale date, as well as prices and fuel economy figures.
Before then, Acura will preview the new 2018 RLX Sport Hybrid in the metal at the upcoming Monterey Automotive Week that runs from August 15 through 19 in Monterey, California.
Story credits: Trevor Hofmann, Canadian Auto Press
Photo credits: Acura
Copyright: Canadian Auto Press Inc.