Acura of Langley Celebrates 15 Years of Super Handling All-Wheel Drive
August 13 2019, Trevor Hofmann, Canadian Auto Press
Acura an innovator in torque vectoring all-wheel drive development
Back in 2004, with the introduction of its RL flagship luxury sedan, Acura proved that all-wheel drive wasn't just beneficial to safety and performance in inclement weather, but rather that its Super Handling All-Wheel Drive (SH-AWD) system could also improve handling on dry roads. Now the Japanese luxury brand has marked fifteen years of SH-AWD availability and development with a video that highlights the advanced torque vectoring all-wheel drive system's history and capability (see it below).

Super Handling All-Wheel Drive (SH-AWD) distributes engine torque actively and continually between the front and rear axles, from 70 percent to the front and 30 percent to the rear, or from 30 percent up front and 70 percent at the rear, while it can also reduce understeer by distributing up to 100 percent of rear torque to either the left or right wheel, improving high-speed handling. Acura has refined SH-AWD with each new generation, and now makes it standard or optional with five of its six available 2019 model year vehicles.

Third-generation 2019 RDX includes new fourth-generation SH-AWD
Acura introduced generation four of its mechanical SH-AWD system in last year's wholly redesigned 2019 RDX, ushering in a more compact, lightweight design that sports 40 percent greater torque capacity at the rear axle, quicker front to rear torque transfer, and a 30-percent gain in torque transfer rates between the left and right rear wheels.
With an eye toward greater electrification in the future, the RLX Sport Hybrid, which arrived in 2014, the second-generation NSX, introduced in 2017, and the MDX Sport Hybrid, also arriving in 2017, ushered in the most advanced iteration of SH-AWD yet. Rather than the mechanical SH-AWD design used up to this point, the new Sport Hybrid SH-AWD system utilized electric motor torque for a more immediate application of four-wheel performance, plus much greater efficiency at the pump.

Twin electric motors drive innovation in Sport Hybrid SH-AWD system
The NSX mid-engine sports car features a unique layout with three electric motors. Of this trio, two combine within a Twin Motor Unit (TMU) that directs torque as needed to each front wheel.
As for the RLX Sport Hybrid and MDX Sport Hybrid models, the entire process flips around with the gas-electric hybrid engine up front and the Twin Motor Unit in the rear; the TMU now distributing electric motor torque to each rear wheel. Therefore, the electrified SH-AWD system produces the same type of performance-enhancing torque vectoring as the mechanical setup.
Amazingly, Acura's Sport Hybrid SH-AWD makes identical technologies and many of the same components work harmoniously in three completely different types of vehicles, the end result being an ultra-powerful and sensational handling mid-engine sports car, a formidable sport sedan with performance to match its luxury, and finally a three-row, mid-size luxury SUV that's as practical as it is potent.

Almost one million SH-AWD systems down the world's roads
While 15 years of Super Handling All-Wheel Drive success is worthy enough of celebration, Acura of Langley has also been an integral part of another milestone that will unfold this year when the Japanese luxury brand delivers its one-millionth SH-AWD-equipped vehicle.
As noted, the first Acura to feature SH-AWD was the RL flagship luxury sedan (2005-2012) that arrived in 2004. Two years later it was joined by the MDX (2007-2015) and RDX (2007-2012), while the TL (2009-2014) and ZDX (2010-2013) followed, all incorporating Acura's second-generation SH-AWD system that integrated Hill Logic, VSA and TCS.
Later, the TLX (2015-present) and MDX (2016-present) were upgraded with third-generation SH-AWD featuring a 25-percent lighter rear differential and more, while the brand new 2019 RDX features the smaller and faster reacting fourth-generation SH-AWD noted earlier.
Finally, the RLX Sport Hybrid (2015-present), NSX (2017-present) and MDX Sport Hybrid (2017-present) incorporate Acura's Sport Hybrid SH-AWD system, and by so doing point to a cleaner, greener electrified future.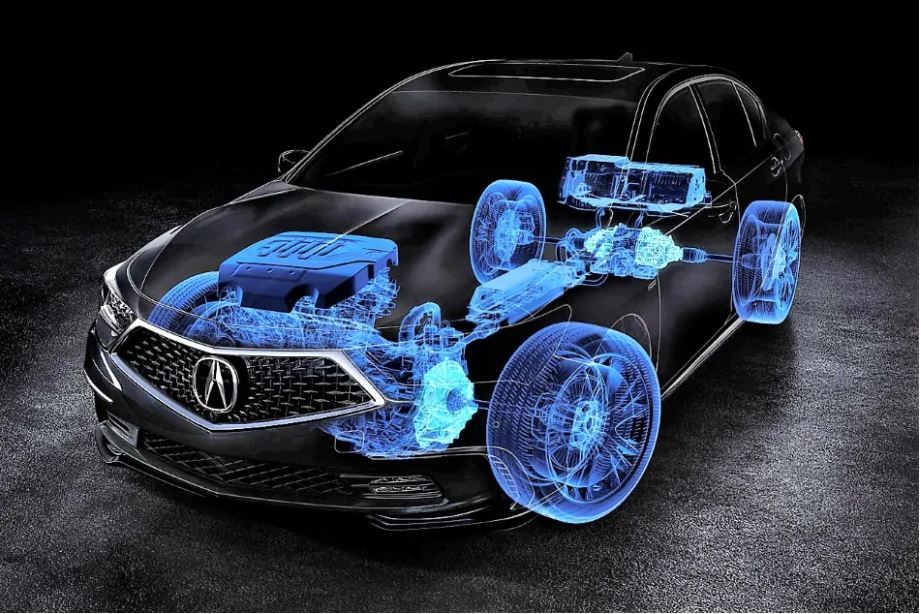 To personally experience how Super Handling All-Wheel Drive improves performance for more fun behind the wheel and increases safety overall, contact Acura of Langley by phone at (888) 690-0290 or visit us in our showroom at 20257 Langley Bypass, Langley.
Also, remember to watch this video highlighting the Acura Super Handling All-Wheel Drive system's history and capability.
Story credits: Trevor Hofmann, Canadian Auto Press
Photo credits: Acura
Copyright: Canadian Auto Press Inc.