2019 Acura RDX Prototype wows Detroit auto show-goers
August 13 2019, Trevor Hofmann, Canadian Auto Press
Most extensive Acura redesign in more than a decade
Earlier this week the 2019 RDX Prototype was revealed in Detroit as part of the North American International Auto Show. It's the "most extensive Acura redesign in more than a decade," said the Japanese luxury brand, signalling "the beginning of a new era."
The current second-generation RDX dates back to 2012 when it arrived on the scene as a 2013 model. A 2016 model year facelift modified its grille and added the standard "Jewel Eye" LED headlamps that have become a fixture across Acura's entire lineup, but take note the new 2019 RDX Prototype modifies those LEDs with a septet of smaller rectangular units instead of its current five.

Dramatic new styling promises to turn heads
The RDX Prototype's "Diamond Pentagon" grille appears identical in shape if not size to that already in use by the TLX sport-luxury sedan and new RLX flagship sedan, all of which are slightly bolder and more pronounced than the first MDX variant, but the lower front fascia of the prototype pulls cues from that used by the larger SUV, particularly the pointed body-colour strike-throughs within the corner vents. They're much larger and point in the opposite direction with the RDX Prototype, these, along with their horizontal row of LED fog lamps instead of the MDX' vertical stack, flowing more naturally into the centre portion of the fascia. We think the RDX Prototype's lower fascia design works well, especially how it wraps around to the sides of the bumper.

Likewise the more expressive headlamps wrap more fully around the sides of the new prototype's front fenders before following the curvature of the front wheel cutouts upward to where they finalize at the hood line. Those fenders are rounder and more organically shaped, flowing naturally into more fluidly sculpted door panels, with the arcing greenhouse culminating at the centre point of the rear quarter window instead of the base. The side windows now sweep upwards to culminate in the middle instead of at their base, a nice change that creates more motion in the design.

The top corner of the RDX Prototype's rear design forms a visual "X" where extended chrome window trim butts up against body-colour rooftop and side panels plus glossy black rear window trim extensions, resulting in a unique take on current floating roof trends, while the multi-angled LED taillights look fresh, modern and harmonious to the rest of the RDX' design. Lastly, the gloss-black diffuser style rear bumper cap hints at this prototype previewing Acura's sportiest A-Spec trim level, a performance upgrade not yet offered with the RDX but nevertheless promised for the 2019 production model, while the gorgeous machine-finished 21-inch alloys further this argument.

All in all, each and every curve and fold that forms the new RDX Prototype, from the front grille rearward, shows greater influence by Acura's Precision Concept than anything the brand has created since the sensational four-door coupe debuted at 2016's Detroit auto show, which we consider a very good thing. The RDX adapts the two-year-old concept's "low, wide and sleek presence to a five-passenger SUV," says Acura, which results in a "more athletic stance and proportions" thanks to a 30-mm wider track, 63-mm longer wheelbase, and a shortened front overhang, the performance-oriented look further enhanced by each wheel getting pushed farther toward the SUV's corners.
"The all-new RDX delivers a powerful statement about who we are and where we are headed as a brand," said Jon Ikeda, vice president and general manager of Acura. "For our customers, the new RDX is a quantum leap forward in design, style and performance, with luxury features and technology that will elevate their ownership experience."

New platform and quicker four-cylinder drivetrain to deliver sportier dynamics
In a move that's at least as dramatic, the new RDX will ride upon its own Acura-exclusive platform architecture. Acura hasn't named the platform per se, instead only expanding on the subject by saying it gets a "lighter and dramatically stiffened body" and a "sophisticated new chassis."
Also new, the redesigned SUV will return to turbocharged four-cylinder power, a formula that launched the original RDX way back in 2006 and quickly gave it a reputation for performance. The replacement engine is a much more efficient 16-valve, DOHC turbocharged 2.0-litre four-cylinder with direction injection and, of course, VTEC. To be more accurate, the turbocharger is a low-inertia mono-scroll design, promoting a wider, fatter torque curve, resulting in 40 percent more low-end torque than the outgoing RDX, no doubt helped along by its dual variable timing cam.

Acura isn't talking numbers at this point, but it will likely produce something in the neighbourhood of the current SUV's 279 horsepower and 252 lb-ft of torque in order to live up to faster portion of the aforementioned claim of "quickest, best-handling RDX ever," although part of its accelerative advantage may come from its segment-first 10-speed automatic transmission, which "responds quickly" and "to the will of the driver," says Acura, "with crisp and refined shifts that capitalize on the 2.0-litre engine's flat torque curve."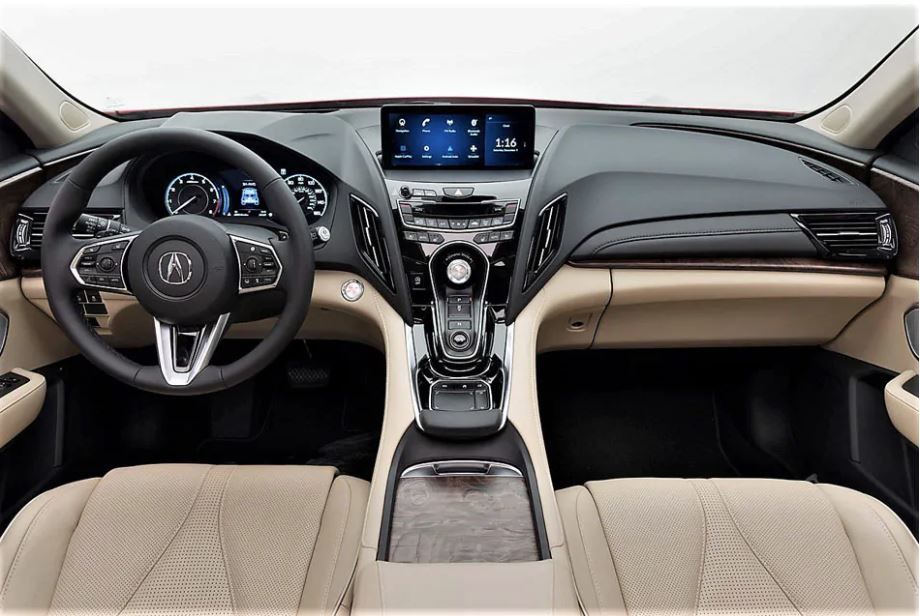 Making sure all wheels find traction will be the next-generation of Acura's impressive Super-Handling All Wheel Drive "in its most advanced form yet." It gets a new rear differential capable of 150 percent more maximum torque capacity than the outgoing RDX. Acura claims its new SH-AWD is "the most sophisticated and capable torque-vectoring all-wheel-drive system in its class," which will no doubt ruffle a few premium feathers. Still, we shouldn't question Acura's engineering prowess when it comes to fast-moving all-wheel drive, as SH-AWD was one of the first torque vectoring AWD systems offered in the premium sector.

Acura ties the RDX' new Adaptive Damper System to the NSX-inspired Integrated Dynamics System, which features four drive modes including "Sport, Sport+, Comfort and Snow." The system's rotating dial selector has been positioned high on the centre console, similarly to its placement within the NSX' cabin, which allows quick on-the-go adjustment from eco-friendly passive modes to performance settings.

Larger more refined interior upgraded with more authentic materials
The driver's environment in mind, in the same way exterior styling was inspired by Acura's Precision Concept, the new interior design and technology took cues from the Acura Precision Cockpit. This means it gets a more steeply raked floating centre console that's really a combination of centre-stack and lower console in one, featuring a new single-display tablet-style widescreen up top, unique dual-zone HVAC interface in the middle, trademark pushbutton gear selector setup below that, and totally new infotainment touchpad at the bottom.

Acura calls the latter its True Touchpad Interface, which it says is a completely new design that combines "the best elements of a touchscreen and remote interface in one powerful system." The touchpad controls an Android operating system-based infotainment interface that appears to be at least as good as anything available in the compact luxury SUV segment thus far, the full-HD display measuring 10.2 inches in diameter, with ultra-crisp resolution, attractive graphics and deep, rich colours and contrast. Alternatively the system will project onto the windshield ahead of the driver via an available interactive head-up display.

Voice recognition has been a long way from perfection no matter which brand attempts it, although this upcoming RDX will feature a "new natural language voice recognition system" that Acura claims "dramatically improves the ease and intuitiveness of voice commands," but most will likely want to use the RDX' new touchpad for most functions, thanks to "the advantages of both conventional touchscreen and remote-based approaches."

True Touchpad Interface provides "one-to-one" realism
Basically, Acura has devised a touchscreen featuring "one-to-one" realism, with the tap of a specific spot on the touchpad duplicated on the exact same spot of the display above. The system responds similarly with other tablet-like gestures, such as swiping and pinching. So, why not skip the touchpad altogether and simply install a touchscreen like so many others? As those who've lived with touchscreens already know, they can sometimes be a stretch, especially if mounted up high on the dash where they're closest to the clear line of sight to the road ahead. A remote touchpad can be mounted closer to a driver's hand for easier and safer operation.

"Absolute positioning transforms the touchpad experience, making it personal, intuitive and particularly well-suited for premium, driver-centric, performance machines," said Ross Miller, senior engineer of user interface research. "It's also designed to be adopted quickly and easily, as drivers become acclimated and comfortable in minutes."

Comfort in mind, this larger RDX, in particular its longer wheelbase, promises a "more spacious" interior "with first-class comfort for five passengers," which Acura claims as having "class-leading cabin space, rear legroom and rear cargo space." A highlight is the new sport steering wheel, which matches new "more intricately sculpted and styled" sport seats with 16-way powered adjustment for both the driver and front passenger, full-grain perforated Nappa leather for its soft, supple texture and durability, as well as seat heaters and cooled ventilation. Overall Acura says the RDX' cabin will include "contemporary detailing using authentic, high-grade materials throughout," including brushed aluminum and open-pore Olive Ash wood." Lastly but hardly least, its "new ultra-wide panoramic sliding moonroof" is "the largest in its class."

The RDX Prototype also features a 16-channel, 710-watt Acura ELS Studio 3D audio system developed by Panasonic and tuned by Grammy Award-winning music producer and longtime Acura partner, Elliot Scheiner. Unique to this system are four "ultra-thin, ceiling-mounted speakers" that "add a new dimension of sound and fidelity to the audio experience."

Safety remains highest priority with new RDX
That 2019 model will also include the brand's AcuraWatch suite of advanced safety and driver-assistive technologies, which (depending on model) currently features forward collision warning, autonomous collision mitigation braking with pedestrian detection, lane departure warning, road departure mitigation, lane keeping assist, and more, while additional connected-car and driver-assistive features like next-generation AcuraLink with 4G LTE Wi-Fi, hill start assist, a 360-surround camera system, front and rear parking sensors, blindspot monitoring with rear cross-traffic alert, and more.

The current RDX' long list of standard and available features, plus its impressive build quality, refinement, performance, utility, strong reputation for reliability and excellent value proposition have long made it popular in Canada, where it still holds a strong second-place in the compact luxury SUV segment despite being well into its lifecycle, so we can expect this all-new version to increase yet more in popularity after arriving here midway through the year.
Until then, contact Acura of Langley at 888-690-0290 or drop by the showroom at 20257 Langley Bypass, Langley to reserve a test drive in the 2019 RDX, and enjoy the videos Acura provided below:
Story credits: Trevor Hofmann, Canadian Auto Press
Copyright: Canadian Auto Press Inc.